Aluminium Shutters
Imagine your home bathed in natural light, thanks to the perfectly balanced structural design of quality aluminium shutters. Imagine aluminium shutters that will work just as well in ten years' time as they do today. Our aluminium shutters are versatile and can be ordered to fit any window size. Enjoy the ultimate experience that comes from living with Top Quality designed aluminium shutters from Plantation Shutters Australia.
Aluminium Shutters are the practical choice for controlling both light and air when you needs a shading and weather proof solution. At Plantation Shutters we make a full range of exterior and interior aluminium shutters in your choice of designs including blade profiles and widths. Built to your exact specifications, you can choose from anodised aluminium finishes to a powder coated colour to match to your request.
Versatile Designs
Our aluminium shutters are handmade by our teams of skilled craftsmen. They are architecturally designed to be extremely strong and durable and are constructed with only the finest extruded aluminium. Our Aluminium shutters not only add security but beauty and value to your home.
Plantation Shutters Sydney offer a great range of many colours including our modern anodised colour, and a timber look colour. Our aluminium shutters can be hinged, bi-folding, fixed or sliding, the applications are endless for both internal and external use.
Have the peace of mind knowing that your aluminium shutters offer privacy, noise reduction, light and ventilation control. Our shutters when closed, are highly water resistant for those rainy or windy days. Our slim profile blades are fully adjustable to provide privacy and sun control without you ever having to miss out on your views.
We have vast collection of designs, models and styles to suit any home or business at an affordable price. Our aluminium shutters are not only stylish and practical but they are also strong, durable and extremely long lasting.
Aluminum is a very durable material and is fairly resistant to possible damage or breakage. This makes aluminum shutters the top considered shutter as a viable long term investment since this means that you won't have to regularly get them replaced. In addition to its durability, aluminum shutters are in high demand for home owners all over Australia due to the fact that it offers a high level of security, exterior aluminum shutters are not easy to break into which deters theft and trespassing. This type of high quality security you won't find in other type of shutters on the market.
Benefits of Aluminium Shutters
By installing aluminium shutters to your home or business you are taking control of the level of sunlight and breeze entering your home or business. Aside from being aesthetically appealing in an aluminium shutters are also extremely cost effective, versatile and easy to care for. Good quality aluminium shutters are low maintenance and don't require regular replacing. Aluminium shutters also provide a high level of privacy due to its opacity. Its high level of opacity also decreases noise and light that may be disruptive for you which makes it great in both commercial and residential settings.
Installing aluminium shutters will make your home more energy efficient by helping you save money on your heating and cooling bills. Having aluminium shutters installed will allow you to keep the harsh Australian sun and heat out of the house during the summer, as well as keep you and your family warm and cozy all winter long. During seasons, like spring and autumn, you can control airflow, which helps to regulate your home's temperature.
Aluminium shutters are the ideal window treatments with their flexibility and possibilities. Aluminium shutters are durable and suit a number of atmospheres and can utilised for many applications for example enclosing a balcony, creating an outdoor room and security reasons.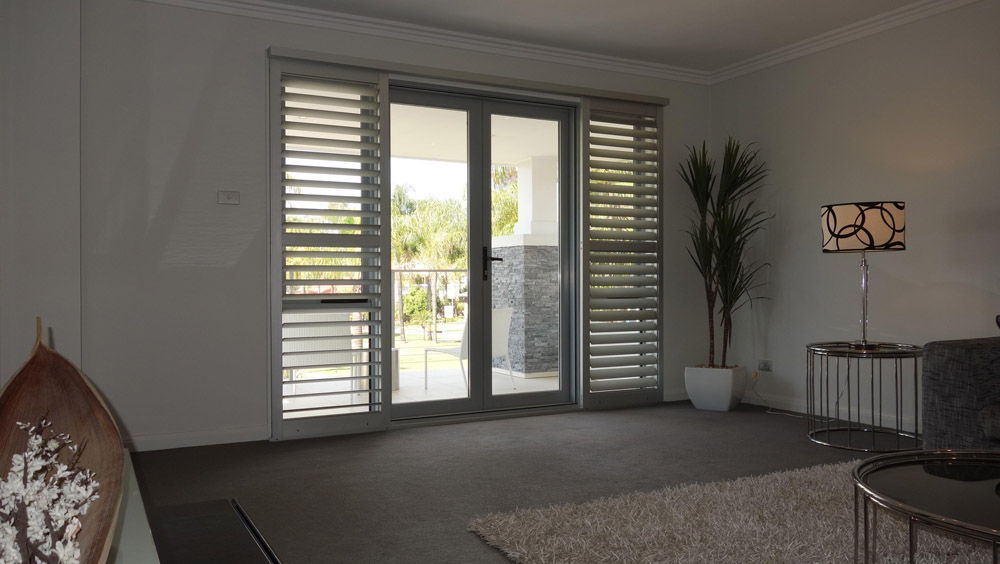 There are certainly a lot of great reasons to choose aluminium shutters instead of other types of window furnishings. However, it is always important to choose a dependable and trusted shutter manufacturer. If you are thinking about installing aluminium shutters to your home or business look no further than Plantation Shutters Australia. If you have a need for aluminium window shutters in Australia then we are the experts you can rely on to provide you with a wide range of skilfully designed aluminium shutters that provide durability and style.
With years of experience in the industry, Plantation Shutters Australia is one of the most trusted among aluminium shutters suppliers and follows the highest manufacturing standards in Aluminium Shutters while providing our customers with reasonable prices. We also do Poly Shutters.
Don't settle for finicky blinds and curtains that will require regular upkeep, if you want a durable and high quality solution to your window furnishings then contact Plantation Shutters Australia today and we can send one of our specialists to help design the perfect window furnishing for your home or business. If it's great and high quality aluminium shutters you need, then you certainly won't go wrong with Plantation Shutters Australia. Call us today at 1300 254 973!